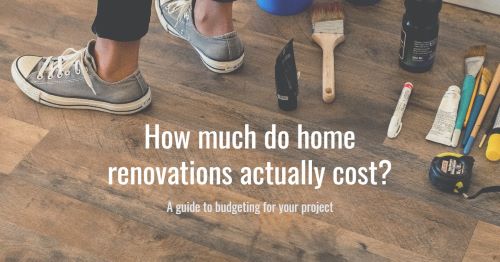 Many homeowners wonder, "How much do house renovations cost?" While the answer can be different for every project, there are some common factors you can use to estimate the cost of your own home renovation.
Whether you're intending to save money on anything from a whole house renovation to a simple bathroom renovation, it pays to know how much you'll pay.
Cost to completely renovate a house
Average house renovation costs range anywhere from $15,000 – $200,000. The list of variables involved in determining the cost for a full home renovation is exhaustive, as many expenses depend on entirely unique situations.
Generally, the final cost will depend on the types of structural changes required, the price of materials and labor per square foot, location and any unforeseen problems that might arise during the process.
Renovating a house by room
If you're renovating a home room by room, contractors usually recommend dividing the rooms into two categories: dry and wet.
Dry rooms are those without any plumbing work involved, such as bedrooms, offices and living rooms. Wet rooms involve a water source and include kitchens, bathrooms and even outdoor rooms.
Dry rooms usually require fewer steps to completely renovate, while kitchens and bathrooms need more than just new walls and flooring.
Home renovation costs by project
The most common renovation projects include:
Kitchen remodel.
Bathroom remodel.
New flooring.
Window replacement.
Roof replacement.
Exterior painting or siding repair.
Any room remodel typically involves painting walls and floors, installation of insulation, drywall molding and door replacements and crown molding.
Other costs, like furniture moving, contractor fees and temporary lodging also factor into your final budget. Average home renovation costs can also vary drastically from one location to the next, and depend on the type of property you own.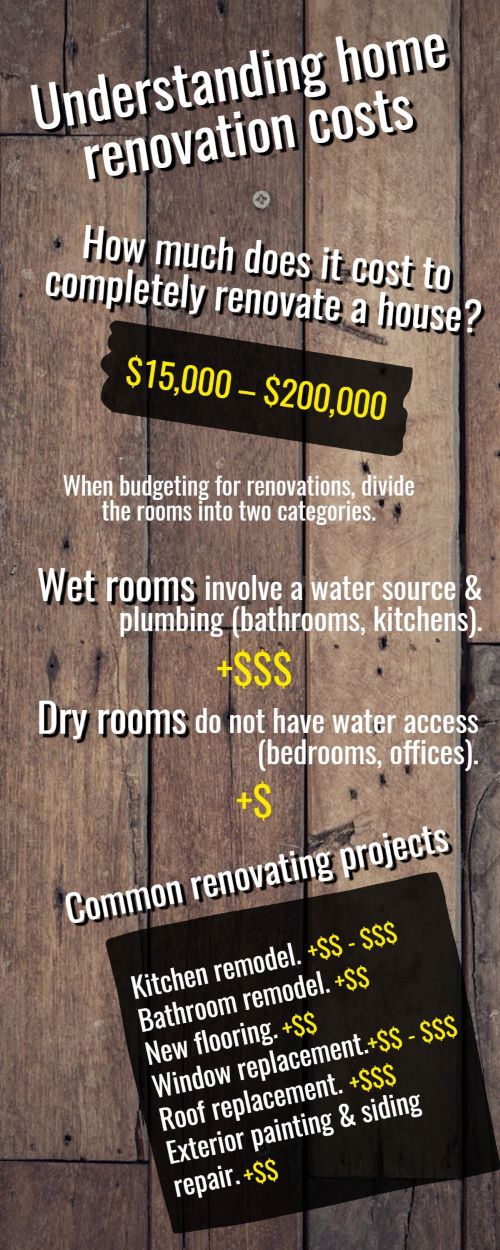 To get the clearest sense of how much your project will cost, consult multiple contractors for estimates. By shopping around for the best deal - and best financing options - you can make the best possible decision for your financial future.