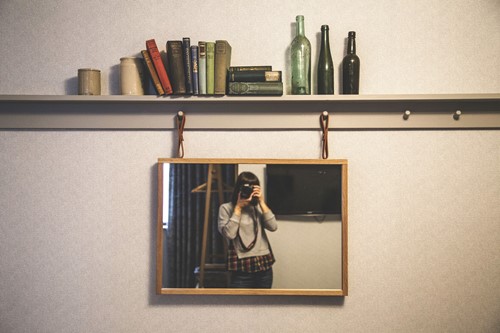 A mirror is one of the most underrated pieces of home decor. Not only does a mirror serve a useful purpose by giving you and your guests an opportunity to catch a quick glance of your reflection, but it also helps to increase the perceived size of your room. A mirror can be a valuable accent piece, as it complements other types of decor such as wall art, monogrammed letters and more.
Instead of opting for a standard accent mirror that can be found at any department store, you can follow this step-by-step guide to creating your home.
Step 1: Find a Mirror that is the Right Size and Shape for Your Space
Accent mirrors can range in size and you need to find the one that fits the space you are designing. You can go looking for old mirrors at thrift stores and you may even find mirror pieces that can be designed into a truly unique decorative display for your wall.
Step 2: Brainstorm Materials for Designing Your New Mirror
Once you have a mirror that is ideal size and shape for the room you are decorating, you should begin thinking about materials that you can use to finish the mirror. A few examples of ideas that you could consider include:
Decorative beads or gems
Wooden frames
Shells or stones
Step 3: Gather the Materials You Need and Make a Plan
After you have decided on the materials that you want to use, get what you need to complete your project. Come up with a plan for how you are going to put your new mirror together, and don't forget to allocate the space you will need in your home or workshop to finish it.
Step 4: Get to Work on Your Accent Mirror
With your materials and plan ready, you can begin working on the mirror itself. Many people find that designing a custom creation and making it themselves is both therapeutic and rewarding.
Step 5: Display Your Mirror with Pride
Your accent mirror could take anywhere from hours or days to complete, but when it's done, you will have a beautiful mirror that no one else has in their home. Display it in your chosen spot with pride, and be ready to tell your guests about how you designed the mirror and completed it yourself.
Accent mirrors are one of the simplest DIY projects that you can take on. There's nothing better than making a custom creation that works perfectly with the existing color palette and theme in your home.